Happy Valentine's Day!
We thought we'd send you this festive image...hope you don't mind that we chose this instead of sending chocolates or long-stemmed roses!
Send a Video !
While approach might work for a store website, we recommend that you
not
try this with your significant other (I did last year and ate dinner alone as a result, sniff).
If you want to make a card to go with the flowers you're rushing out to buy at the last minute, feel free to start with ours! Here's a hip file with some bouncing-balloon-like hearts, and a comp network which allows you to add a special someone's name. Or you can just send a URL to this
VIDEO
!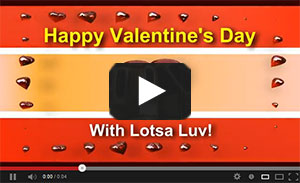 Get the Houdini hip file
HERE
Note: This scene file uses the free
HDRpath Environment Asset
.